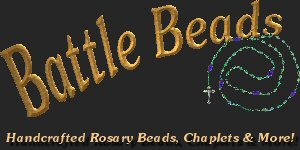 Site Dedicated to the Sacred and Immaculate Hearts

---
Please how you found this site!


Donations gratefully accepted!

At least
10% of donations and sales are
donated for missionary work!
Masses
are
offered monthly for all customers!


If you would like to link to BattleBeads,
here's a banner you can use:



I'd very much appreciate you downloading the banner
and hosting it yourself as I pay for my bandwith and
hosting space. Thanks!

S=Silver tone - G=Gold tone - GP= Gold Plated - SP=Silver Plated~ C=Corded ~ ss=Stainless Steel ~ AB=Aurora Borealis ~ SS=Sterling Silver
Click Images for details ~
Holy Family Corded Rosary; light molded blue rice beads
C #125 $12 pic



8mm corded blue Mellon bead Rosary

light acrylic beads #237 c $17

pic

6mm AB Iris Glass beads corded Rosary/Enamel Crucifix
C #308 $16








Multi-color moulded rice bead Rosary w/Scapular center

C #146 $12

pic



Holy Face Rosary w/aqua cube beads
SP #145 $18 pic




Plastic 9mm beads (various colors, made to order)
#6 SP $12

Corded St. Jude Rosary
6mm acrylic beads w/green Cross Pater's
C #122 $12 pic







TOP OF PAGE
©2009 & Beyond BattleBeads.com ~no reproduction of text or original graphics without express permission~