Other Items
I will be adding to this as I come across items. My aim is to expand this area to better serve my customers.
These will be, for the most part, not made by me, but either purchased for resale or crafted by others.


Very Nice Cat's Eye's Rings - ONLY $5 each!
When they're gone, they're gone!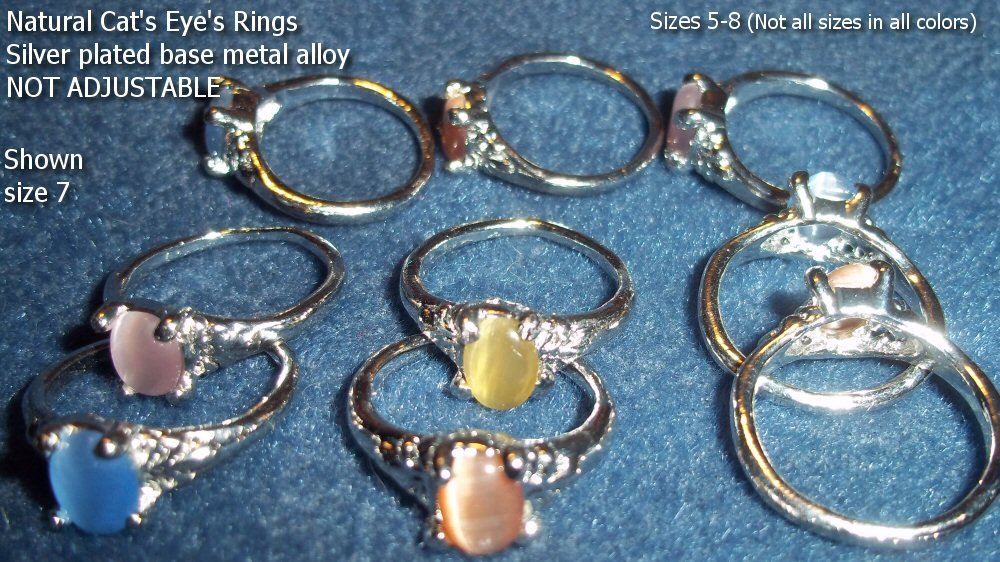 These are NOT light easy to break adjustable rings!
They are silver plated metal prong rings and should hold up quite well by the looks of them.
Best choice of color is size 7.
Other available sizes: 5-3 (orange, lilac, purple); 5½-1 (aqua); 6-2 (both aqua);
6½-4 (aqua, purple, lemon, pink); 7- ; 7½-2 (orange, lime); 8-6 (periwinkle, lemon, pink, orange, beige)
At this price, colors are as close as I can describe them. Above picture is representative of group.
These are great rings for the price!
If you need a specific color in a certain size, best to contact me first!
Otherwise, just select your size and I'll choose for you. But please feel free to to let me know your color preferences and I'll do my best! I'll try to keep this updated with the colors available.
Not many folks view this page, so they may not sell too quickly :)
PLEASE STATE SIZE IN PAYPAL COMMENTS!!
Comment area will appear near the end of your transaction, not in the beginning.

Stainless Steel Cross Ring - GORGEOUS!
r5270 $8

Stainless Steel 2 Ring Set! BEAUTIFUL!
#r5337 $10
These Rosaries below are NOT hand made. They are machine made. If you look closely, you can see some badly closed jump rings and wires. However, I got these at a very good price to pass them along and although I didn't make them, I will do my best to give them the once over and fix all I see before I pack them up .. just for my valued customers! :)
I think you will agree they are well worth the price :)

St Benedict Rosary

Per description on image.

pic

#o1 SP $5

OL of Guadalupe Cord Rosary

Per description on image.

pic

#o2 Cord $5