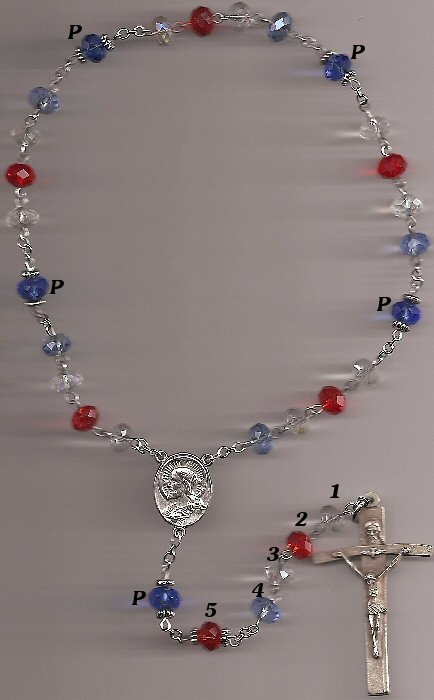 This was the original design. I have since grouped the colors (as shown below and in updated design and pic2,3,4) to make it easier to understand. There is now also a shortened version (bottom,right) similar to the 'niner' chaplets that can be prayed easily and quickly with just 1 group rather than 5.
Please note: The use of the Our Father/Pater and Hail Mary/Ave names for the beads is because traditionally, rosaries have the Hail Mary's/Ave's grouped and the Our Father's/Pater's apart. I thought referring to it this way would better familiarize folks with the positioning and logistics. I have since added 'single bead' for Pater's and 'grouped bead' for Ave's. I hope this helps :)
The USA Chaplet
This chaplet consists of a Trinity Crucifix, Scapular center piece, 30 beads and is in the colors of the USA which also reflects the Father, Son, Holy Ghost and Our Lady. Each group includes the Trinity and Our Lady, hence the 4 beads. The Pater's are in a deeper Royal blue because God is the King of the universe.

The Crucifix: The Creed
1. Our Father/Pater (clear - The Father's Love & Mercy)
2. Fatima prayer (red - Precious Blood of Jesus)
3. Glory be (clear - The Spirit's Guidance & Power)
4. Hail Mary/Ave (light blue - for Mary & obedience)
5. Help for the most vulnerable
"Merciful Lord, please protect and save the most vulnerable; the unborn, disabled, sick, elderly and those that know not Your Love and Mercy."
Then pray 5 groups of 4 beads preceded by a Pater:

On the chain before the Pater's/single bead: "Most loving Father, may Your Will be done on earth as it is in heaven."
Pater's/single bead: "Sweetest Jesus, for the sake of those that love You, by merit of Your Holy Passion, lift not Your Protective Hand from us and please bless the USA!"
Ave's/grouped beads: "Eternal God, united to the Perfect & Holy Passion of Jesus, we offer You our joys, sorrows, breaths, heartbeats and tears to strengthen the faithful, renew the lukewarm, restore the fallen away and convert the proud."

In Conclusion: "Merciful Father, Whose tender Love has no bounds, grant, in Your Goodness and Mercy that we always embrace Your Perfect Will in all things with a joyful heart. Please cover us with the Precious Blood of Jesus in which we trust and rely. Send the Holy Spirit to renew our souls and our land that it may bring You honor and glory and we may, once again, be a nation under God! Bring us daily closer to the Sacred & Immaculate Hearts and increase our Faith that we may always strengthen each other, in Jesus' Name. Amen."